All Summer Long
If you want a really fresh perspective, get in a kayak and see the city from a different angle. Providence Kayak Co. lets you row solo or in tandem with a partner as you explore the Providence River, and new for their second season, they've added a schedule of guided morning and sunset tours. Waterplace Park

For quirky vintage finds and locally-made art, all with a heaping helping of food trucks, check out the Providence Flea. The outdoor bazaar will pitch its tents along the Providence River Greenway every Sunday throughout the summer. South Water Street. Every Sunday starting June 3

Admit it, you love the Swan Boats at Roger Williams Park. Hop one of these majestic watercrafts and paddle your worries away. Or, if you prefer your aquatic adventures with a bit of history, sign up for an amphibious tour aboard Miss Betsey, the park's own by-land-and-by-sea duckboat. Roger Williams Park

If it's summer in Providence, people are playing bocce. Joining the courts at Grant's Block and Spruce Street on Federal Hill are the two new courts that went into Dexter Park on the West Side last summer. All of these courts are BYOB – bring your own balls.

Downtown Providence exploded on social media when it unveiled the Bumper Cars at the Providence Rink. After swapping out their snow tires, they're back for the summer. And because apparently they weren't fun enough, they'll be rolling out a massive soccer ball for some serious real-life Rocket League action. Kennedy Plaza

The Downtown Parks Conservancy is bringing music, food, and family-friendly art back to Burnside Park for another summer of great excuses to sneak out of work early. On Wednesdays in June, Noon Tunes at Burnside Park will feature performances from Czesare Santana, Michelle Cruz, and Miss Wensday while nearby food trucks fill you up. Thursdays in July and August (starting on July 12) belong to Storytime and Art in the Park, a kid-friendly series with authors, performers, and artists reading stories to kids and leading them in hands-on art projects inspired by Shel Silverstein's Where the Sidewalk Ends. Also starting on July 12 is the weekly Burnside Music Series and Beer Garden where Trinity Brewhouse will be pouring brews from 5:30-7:30 along with rocking performances from local bands like Boo City and the Extraordinary Rendition Band, Death Vessel, and Nova One.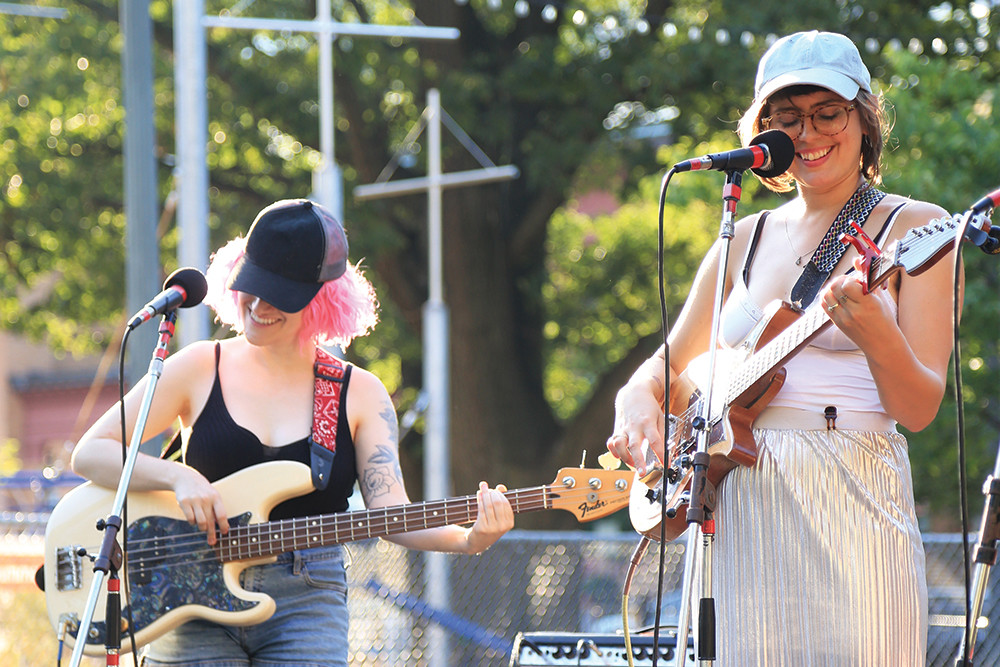 Photo by Savannah Barkley
Go to a PawSox game for some great baseball, stay for the fireworks and music, bobbleheads, and more. To celebrate Hispanic fans, the PawSox will become the Osos Polares de Pawtucket on Tuesday nights, complete with Latin-themed food trucks and Spanish language announcements throughout the game. Saturday Night Fireworks light up the night sky over McCoy with a dazzling fireworks display after every Saturday home game.
There's more to Roger Williams Park Zoo than just the wildlife. Don't miss these summer events and attractions like Zoobilee! Feast with the Beasts on June 30, Brew at the Zoo on August 25, the new Soaring Eagle Zip Ride, and Food Truck Fridays at Cariusel Village.

If you need a foodie tour checklist, look no further than RI Food Fights. On July 15, they're bringing together the tastiest scoops for their annual Ice Cream Throwdown. Meanwhile, their month-long Iced Coffee Celebration is the easiest way to sample the state's caffeinated goodness.
It isn't summer in Providence without WaterFire. This year's summer lightings are happening on June 10 and 30, and July 14 and 28, but as we all know, WaterFire is WaterFire – whichever date you choose is going to be a blast. Downtown
Save the Dates
The Hope Street Merchants Association is kicking summer off right with their annual Hope Street Block Party. Along with food trucks, live music, and shopping, this year will feature a Chinese Lion performance, a rock climbing wall, and an action-packed bout from Live Prov Wrestling. Hope Street. June 2

PVD Fest is the city's marquee summer festival, returning for four days of art, music, food, and culture. Popping up for the fourth year in the beating heart of downtown, expect local, national, and international performers, as well as a Guinness World Record-setting attempt at the most people dancing a Bachata. Downtown. June 7-10

If you like your colonial history with more of an edge than a midnight tea party, consider Gaspee Days, the annual celebration of that time a bunch of Rhode Island colonists got real rowdy, set fire to a British ship, and sparked a revolution. Historic reenactors will march down Narragansett Parkway with muskets blasting on June 9, and the following day will feature a replica HMS Gaspee getting torched. Pawtuxet Village. June 9-10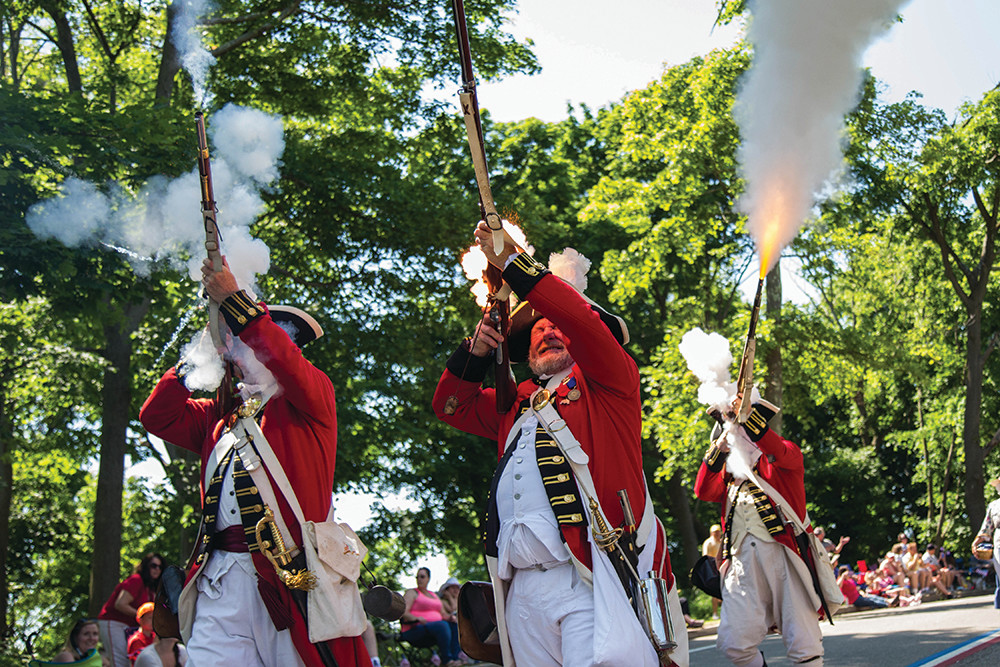 Photo by Tony Pacitti

After a pilot season late last summer, Bold Point Park is pulling out all the stops and kicking out all the jams just across the river. Dropkick Murphys and Flogging Molly (June 16), The Roots (July 1), and Michael Franti (July 18) are just a few of the headliners at the state's newest outdoor concert venue. East Providence. Various dates

If there's anything better than bacon and beer, we don't want to know about it. The Bacon and Beer Fest is coming back to the Steel Yard with more than 25 restaurants pairing their favorite, most bacon-y dishes with the perfect suds. Sims Avenue. June 10

RI PrideFest, now in its 43rd year, is celebrating the LGBTQ community with an all-day bash featuring live music, food, and more, all topped off by the Illuminated Night Parade, which makes its way from South Water Street through downtown. No doubt this year's fest will live up to its theme, "Louder and Prouder." South Water Street and Downtown, June 16

The Rhode Island Historical Society's Concert Under the Elms brings an eclectic lineup of performers to the John Brown House lawn on the East Side every Thursday night, starting with the The Cajun Hobos. Steve Smith and the Nakeds, The Becky Chace Band, and The Duke Robillard Band are just a few of the acts returning to the stage, er… lawn. Power Street. Thursday nights June 21-August 2

Ever wonder what goes on in The Steel Yard? The 6th annual Fire Camp Festival is an all ages open house where the blacksmiths, ceramicists, and jewelry makers who call The Steel Yard home get to pull back the curtain and show guests how it's done. Expect a "Yardie" arts and crafts sale, local eats, and a live iron pour. Sims Avenue. June 23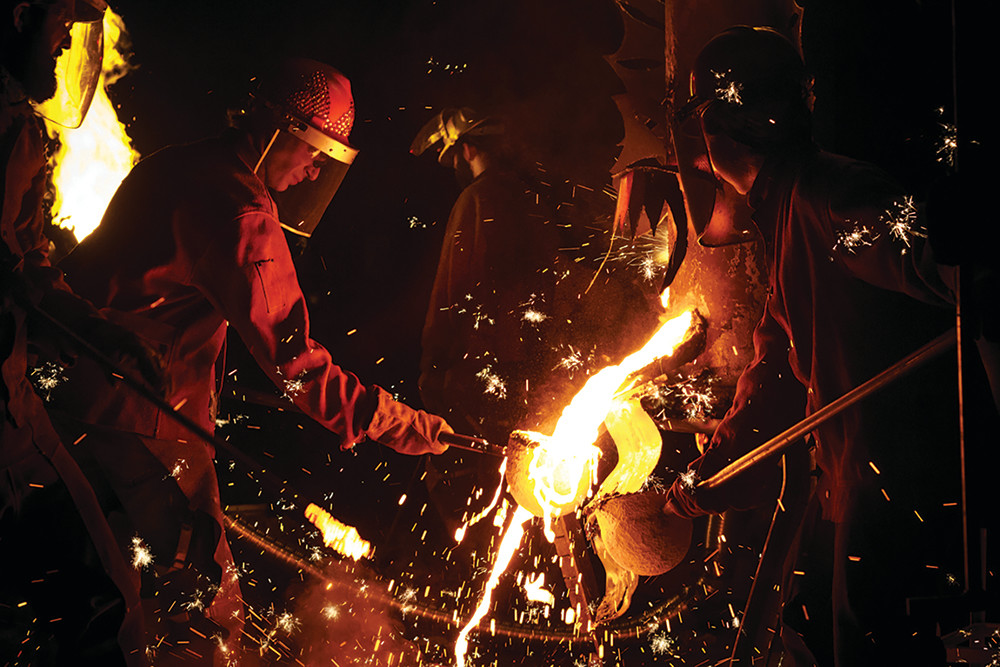 Photo courtesy of the Steel Yard

Grab some ribs by the water, kick back, and bask in the blues at the India Point BBQ & Blues Festival. Two days of smoked, meaty goodness combined with a killer lineup of musicians – including Roomful of Blues and Elliot Johnson & the J Street Band – sounds like summer to us. India Point Park. June 23-24

Providence has one of the largest Cape Verdean-American communities in the country and everyone's invited to party at the 43rd Cape Verdean Independence Day Festival. This annual celebration will bring traditional Cape Verdean food, art and music to India Point Park from noon until sundown. India Point Park. July 8
The Rhode Island International FIlm Festival returns in August, and while most of the acclaimed international programming will have you sitting in air conditioned comfort, a couple of events during the festival are happening outside. The Providence Backlot Tour (August 8) explores the downtown's film history, as well as highlights its on-screen charisma to visiting filmmakers. On the last night of the festival, EGO will be hosting a block party blowout (August 11) sure to give Hollywood parties a run for their money.
For a classic – and classical – night of music, look no further than the Roger Williams Park Pops featuring the Rhode Island Philharmonic Orchestra. It all pops off at the park's iconic Temple to Music. Roger Williams Park. August 10

Foo Fest is a chance to see all of the wild things that happen in AS220 spill out onto Empire Street for a daylong celebration. Check out the artists, makers, and musicians that are doing their duty to keep Providence weird. Empire Street. August 18