Anytime a major Rhode Island retailer announces it's about to close its doors, shock waves reverberate throughout the state. But when it's a store that's been in business for three generations and which successfully branded itself as "our favorite store," we're talking top of the Richter magnitude scale. Benny's, with its 32 stores and over 700 employees, is going to leave a big hole.
Benny's was our locally owned hometown hero, the little blue-collar engine that could, as it somehow held its own against those big national chains for 93 years. It survived depressions, wars, a local banking collapse and a national subprime mortgage fiasco. Now, sadly, it's about to join another all-too-familiar Rhode Island tradition, as it adds its many sites to our ever-increasing "where X used to be" list.
The company was established by Ben Bromberg in 1924 with a storefront on Fountain Street. It grew steadily under the leadership of his son Malcolm. Benny's current CEO Arnold Bromberg is the third generation of the family to lead the company. He explains their initial success: "Back then, we were the first of the urban general stores." As Benny's branched out from automotive parts and tires to "a little bit of everything," the business flourished: "Customers depended on us to help them stretch their dollars," Arnold says.
With a store on Branch Avenue and a tire center on North Main, Benny's has had a large presence here on the East Side, including, Arnold reports, a store on Hope Street between Apsara and KG Kitchen Bar in the 1940s (who knew?). And the Bromberg family itself has been active here as well. Arnold's brother Howard and sister Judy both joined the business. Arnold was active in the Classical Alumni Association while Howard (and his guitar) took part in leadership activities at Temple Emanuel.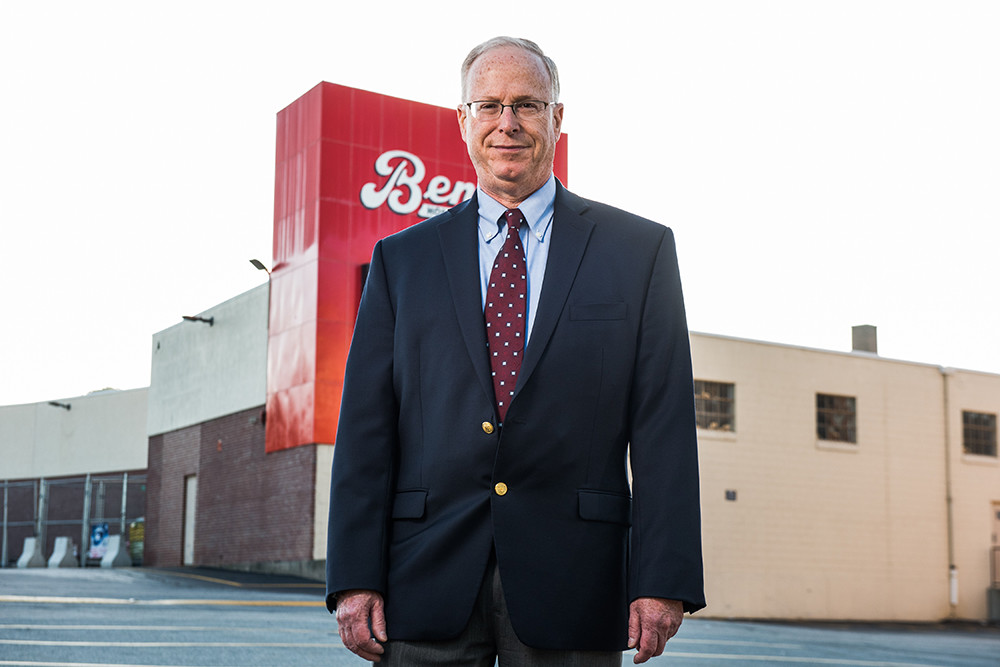 As the Brombergs grew their business, Rhode Island was becoming the landing spot of choice for several other retail pioneers as well and more than a few lived on the East Side. The Chase family started the Ann & Hope discount operation, which served as a model for Sam Walton after he visited the family in 1961. In appreciation for the advice he received, he never allowed a Walmart to open in Rhode Island while he was alive. The Pilavin family opened their Apex Department stores in the 1920s, which introduced the country's first retail credit cards. Its old Pawtucket store is now the potential site for a new PawSox stadium. And then there was Joseph (Dody) Sinclair and the Outlet Company which became one of the country's first retailers to venture into the nascent broadcast industry by buying television stations across the country. He was succeeded by Bruce Sundlun, who aggressively continued the expansion from his Power Street mansion before he became governor.
With so many competitors living within a few blocks of each other, "there certainly was competition among us for sure," recalls Arnold. "And it was fierce, but always fair."
As I interviewed Arnold at the Butcher Shop, I wasn't surprised when a group of mostly retirees wandered over after finishing up their morning coffee to extend their regrets and let Arnold know that he would be missed. One asked if all his real estate is for sale (it is). Another asked, with a smile, if he could still return the bicycle he had bought for his kid thirty years ago. Everyone had a Benny's story: running in for a shovel after an unexpected snowstorm, or the first baseball glove for Little League tryouts, or the beach chairs that announced the kick-off of summer. Whatever you needed, they seemed to have.
My own favorite Benny's memory has nothing to do with retailing. It's a mental image of Howard Bromberg slipping out of his suit after work to don a mask and chest protector as the starting catcher on the East Side Monthly softball team. With his help, we went on to win the RI Advertising League Championship, mismatched uniforms and all.
Many people we talked to remembered the old "Lost Customer" commercial, a bewildered shopper attempting to find sales help as he wanders alone through a cavernous big box store. Written by Congdon Street resident Tom Monahan, the spot was shot back in the 1980s at the Branch Avenue store. "The commercial ran forever," Tom recalls. "It wasn't glitzy. But it worked because it was true. When it came to service, Benny's was the best."
So what went wrong? "I don't think anything went wrong," Arnold says. "The retail landscape began shifting this year. We saw the writing on the wall… The reality is Rhode Island has remained at about a million people for decades. And the younger generations aren't as committed to us as their parents and grandparents. And certainly the Internet and Amazon helped seal the deal… My brother, my sister and I… just didn't feel comfortable handing the business over to the next generation, given so many uncertainties."
The stores will begin to close on a rotating basis through the end of this year. "It's not a going-out-of-business sale," Arnold insists. "It's a retirement sale." The family owns many of their locations, so they have plenty of options. Ocean State Job Lot might be a fit, though several of their locations are already close to current Benny's stores. As Arnold puts it, he is in the midst of an "intergalactic search" for any takers for the operation or the real estate.
Ever the merchandiser, after noting how quickly the store ran out of their inventory of Benny's t-shirts, Arnold is already preparing two more versions. "We also hope to maintain an online presence for our old customers," he promises. "We plan to keep it updated with old photos, a place where people can share stories and the like. We've always tried to treat our customers as family and we hope this will help keep the tradition and the memories alive."
We'll miss you, Benny's.